Welcome
to
Enterline Online
Your one stop resource center for everything Enterline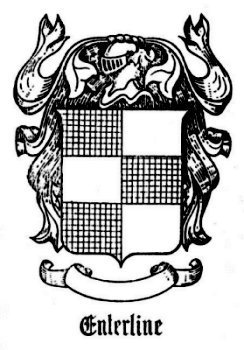 ---
!!!!! ATTENTION !!!!!
ENTERLINE REUNIONS for 2017
---
(1) 65th ANNUAL ENTERLINE REUNION 2017
1 p.m. Sunday, August 13, 2017 at the

Veterans of Foreign Wars Pavilion in Lykens, PA
MORE DETAILS AND DIRECTIONS
---
(2) The Oklahoma Enterline Reunion 2015

11:00 AM - 2:00 PM Saturday, August 29, 2015 (have not received 2017 invite yet) at Spencer's Smokehouse & Barbeque, 9900 NE 23rd Street, Oklahoma City, OK
More details & directions
---
DETAILS on the dedication of a memorial plaque in Rev. Enderlein's memory in St. John's Cemetery on August 21, 2005.
---
This page is made possible by the generous contributions of many fellow researchers.
It is my belief that every Enterline descendant should know and have easy access to their proud heritage. Information will be made available on this sight for all to copy.
I am attempting to put together as large a file on the descendants of Johann Michael Enderlein as possible. Any additional data or pictures of the older generations that you can donate would be appreciated.
Material found in this database is to be considered as working papers only.
Dennis G. Cass
EMAIL
Web Pages With Related Surnames
Enterline Family Genealogy Forum
Ancestry Enterline Message Board
SEARCH