ALL Descendants of Johann Michael Enterline Are Invited to Dedication of Memorial Plaque on St. John's Cemetery

---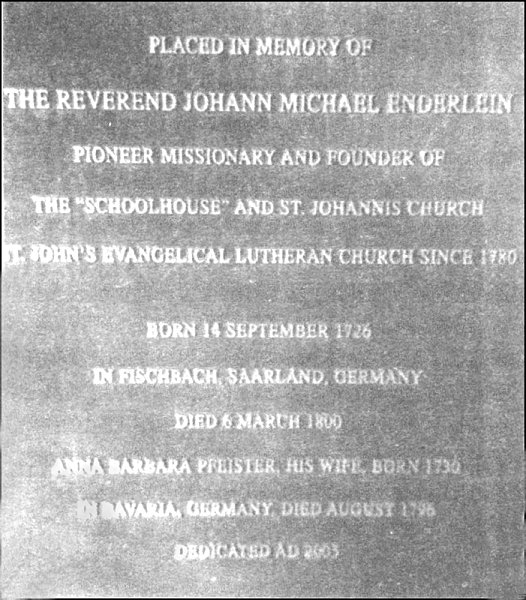 All descendants of Pastor Johann Michael Enterline/Enderline/Enderlein/Aenderlein are invited to attend a special service at St. John's Evangelical Lutheran Church just south of Berrysburg in upper Dauphin County. The service will feature dedication of a newly-installed plaque located in the old cemetery just west of St John's Church very near the presumed location of Pastor Enterline's grave. The date of this dedicatory service is August 21, 2005. Sunday School will begin at 9.00 A.M., followed by regular Sunday worship services at 10:15 A.M. The dedication of the plaque in the cemetery will follow the latter service.
On November 10, 1760, Johann Michael Enterline, then 34, married Anna Barbara Pfeister, then 30. Both were born in Germany. The marriage ceremony was held in the sanctuary of the St. Michael's and Zion congregations in Philadelphia. This union was eventually blessed with 9 children, 6 of whom survived to adulthood. They left many descendants.

Pastor Enterline spent his early pastoral years in Bucks County, and then in old Lancaster County, before coming to the Lykens Valley area prior to the establishment of Dauphin County from the northwestern part of old Lancaster County. Being an energetic and dedicated Lutheran "missionary" to the then frontier areas, Pastor Enterline was notably effective in founding several Lutheran churches in the Susquehanna Valley area. All the while, his home church" was, and remained, St. John's Evangelical Lutheran Church, which he founded in 1780. As the small rural congregations which he organized could hardly support a full-time pastor, Rev. Enterline in large part supported himself and his family by engaging in land management, timber, and sawmill operations. At one time he and his sons owned more than 350 acres of good farm- and forest-land (now in Washington Township) south of the church. Later most of that land became the Eston Klinger farm. Much of that same land is now the site of two Amish dairy farms, the Blue Grass Estates housing development, a small horse farm, and the Upper Dauphin County YMCA. Numerous descendants of Johann Michael and Anna Barbara Enterline still live in close proximity to St. John's Church. Others have left the area but are expected to return to participate in an Enterline Family (all spellings) Reunion scheduled to be held in Glen Park in Lykens at 1:00 PM on Sunday of August 21, 2005.

The Congregation of St. John's Evangelical Lutheran Church
extends a sincere invitation to all Enterline descendants and
their friends to attend the historically significant dedication
ceremony on August 21, 2005. This ceremony is part of a
year-long observance and commemoration of the 225th
anniversary of the founding of St. John's church in 1780
through the work of Pastor Johann Michael Enterline.
The present well-maintained St. John's Church building,
dating from 1876, can readily seat 500, so all who come
can be accommodated. Note the date on your calendars now.